Welcome to Gorge Kiteboard School

2014 Season - Hood River
April 15th - November 1st

I offer kiteboarding lessons to all levels of students, from beginner to advanced. Each lesson is tailored to take advantage of the skills you have, and work towards your goals at your pace. I provide all the equipment you need, including warm wetsuits for cold water in the spring and lighter wetsuits for the warm days of summer. Students may use their own equipment when appropriate. I have taught more lessons in the western United States than any other instructor and teach all the lessons at Gorge Kiteboard School. I use my 14 years of experience teaching kiteboarding in The Gorge to make each lesson as productive as possible. Each lesson includes approximately one hour of classroom time to understand in detail what you are trying to do, and two hours of water time to develop your skills as you move through a progression of exercises leading directly toward your goal.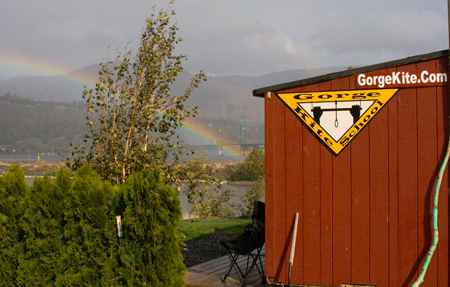 If you are a beginner, or if you have been kiteboarding for a few years, gaining a solid foundation of kite handling skills will make the sport more fun and safer. Your level of enjoyment is directly related to your ability to generate steady controlled power from the kite. Good kite control skills keep the kite evenly powered in strong gusts and through lulls in the wind. If the kite crashes in light winds, good kite handling skills will allow you to relaunch the kite from the water and bodysurf upwind to retrieve your board. When you are kiteboarding in control, you are safer and have more fun.

As a general rule most students who have not kiteboarder before should plan on 3 to 5 three-hour lessons to develop the skill set needed to kiteboard safely. However each student learns at their own speed and develops the skill set needed by combining their existing skills with new skills. Pilots, sailors, very strong swimmers and students who have stunt kite flying experience can use their existing skill sets to learn significantly faster. On the other hand, some students want extra lessons because they want to achieve a higher level of control or to overcome a negative experience and regain confidence.

I often work with kiteboarders visiting the Hood River area who need a single lesson to develop additional kite control skills to deal with the gusty conditions of The Gorge and take advantage of currents and the swells of the river. I also work with lots of students switching from kiteboarding schools in Hood River that failed to meet the students needs or their expectations.

I provide top quality equipment, Headzone radio helmets, Promotion wetsuits, Cabrinha Kites and I have a jet ski available for all kiteboard lessons. My online reservation system allows you to reserve a time slot for your kiteboard lesson quickly with minim hassle. The Online School lets students prepare specifically for their kiteboard lesson and review the skills learned after the lesson.

Please click here to check availability and sign up for your kiteboard lessons.

Or click for more detail about the school in Hood River and instructor Mark Worth, the kiteboard lessons plans or the rates.